Waist and Abdomen Liposuction
WAIST LIPOSUCTION MELBOURNE
Remove excess fat through the waist with liposuction
Liposuction is a cosmetic procedure that can remove excess fat from various body areas, including the waist. Waist liposuction can provide a slimmer appearance and improve body proportions. In addition, liposuction can help contour the waistline and reduce the appearance of love handles.
This procedure is relatively safe and typically has a 1-12 week recovery time. However, it is important to note that liposuction is not a weight loss solution and should not be used as a substitute for a healthy diet and exercise.
If you're considering fat removal, consult our team today to discuss your goals, and we'll determine if you are a good candidate for the procedure.
BEFORE & AFTER WAIST LIPOSUCTION
Most patients see a noticeable difference in the shape of their waistline within a few weeks of the procedure; however, it may take several months for the full results to become apparent.. 
Everybody is different, so before and after pictures can only give a general idea of what to expect. Make sure to book a consultation with our team to discuss what results you can achieve.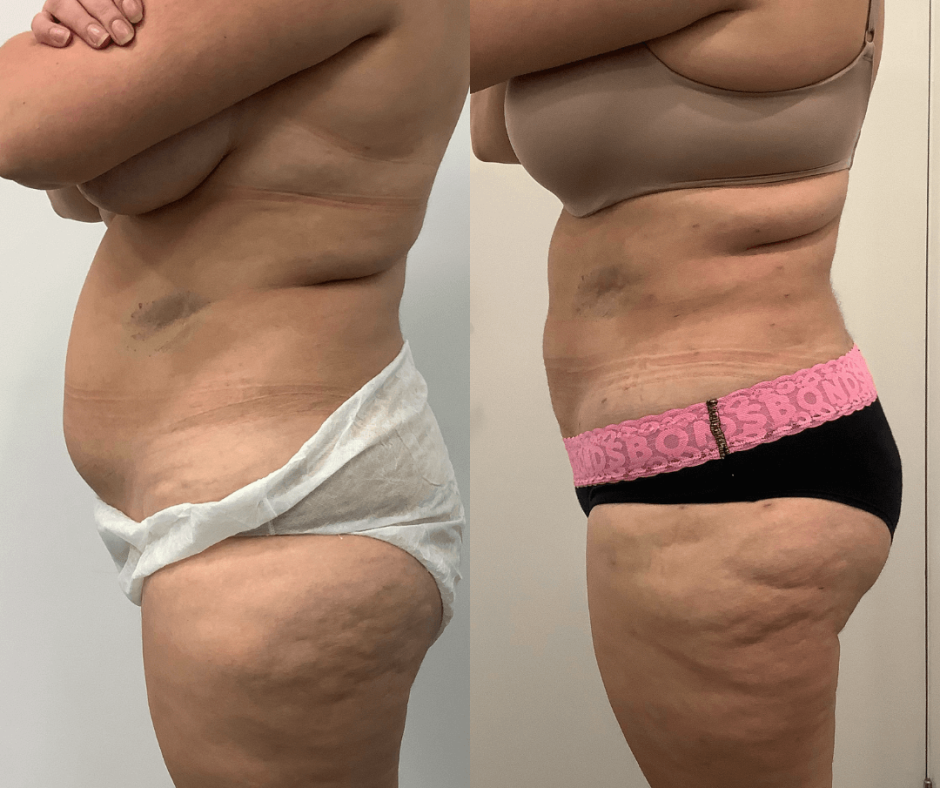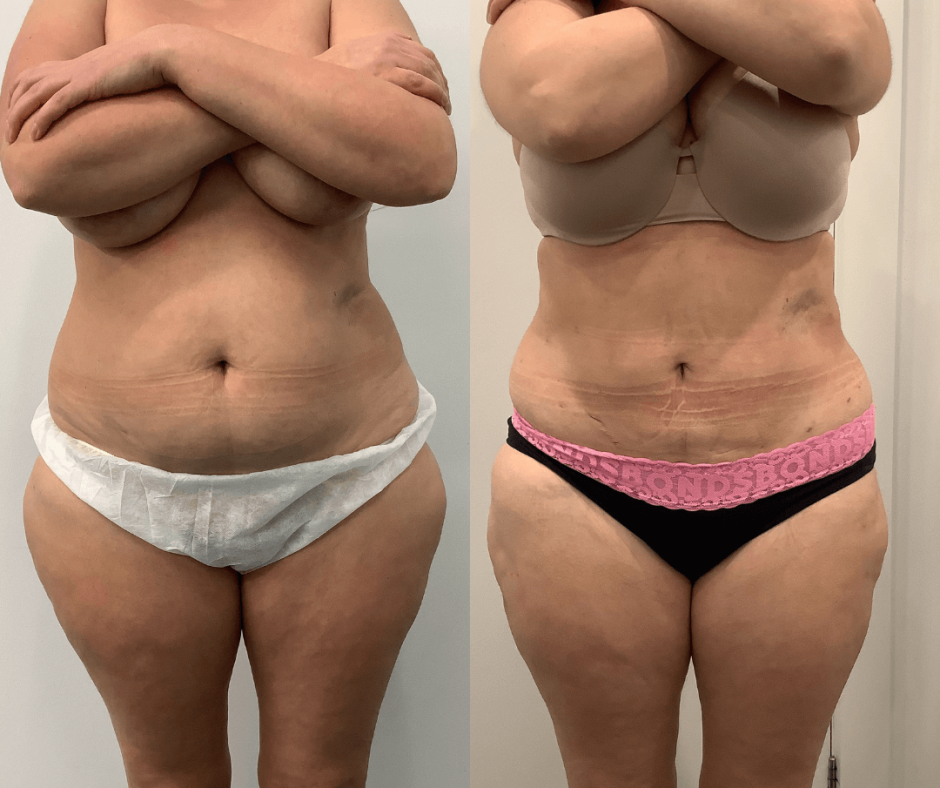 When considering the cost of waist liposuction, it's important to understand the factors that can affect the price. The liposuction procedure used will be one of the biggest determining factors. Traditional liposuction tends to be more expensive than newer liposuction techniques like fat transfer liposuction. The amount of fat that needs to be removed will also affect the cost. Our fixed liposuction prices start at $5450. To get a more accurate estimate of the cost of waist liposuction, book a consultation with our team to discuss your options.
WAIST LIPOSUCTION RECOVERY
Most people undergoing waist liposuction experience minimal downtime and can return to normal activities within a week. However, you can do a few things to help ensure a smooth recovery. First, wear your compression garment as directed by your cosmetic surgeon to minimise swelling and encourage healing. Second, take pain medication as prescribed to stay comfortable as your body adjusts to the new contours. Finally, ensure proper hygiene and regular movement. Following these simple guidelines can help you ensure a successful recovery from waist liposuction.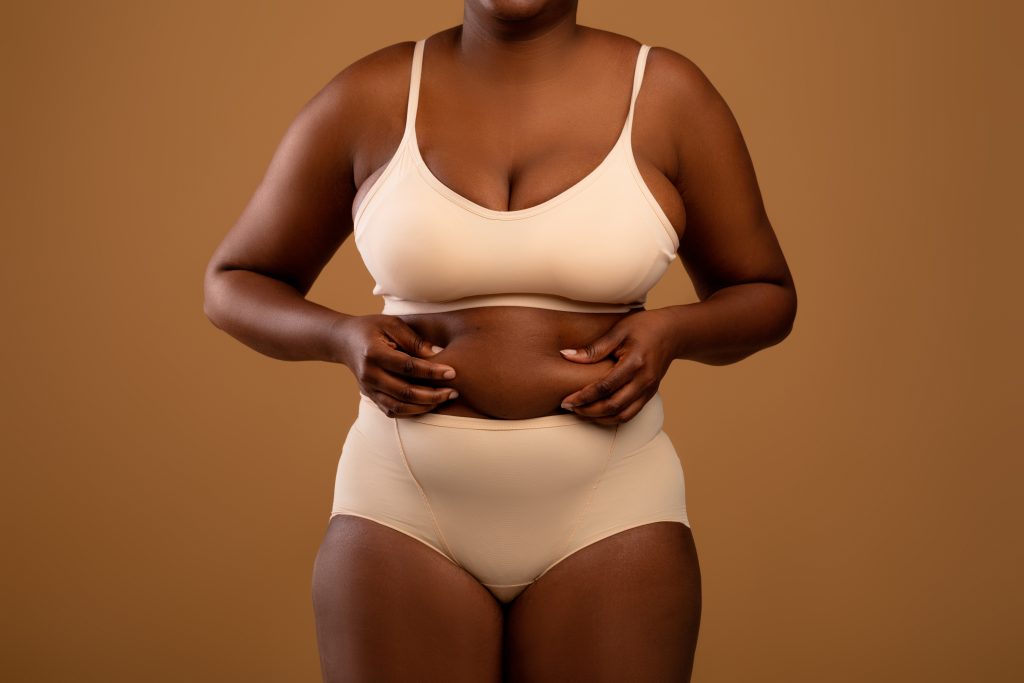 FREQUENTLY ASKED QUESTIONS
Liposuction is a cosmetic surgery that can remove excess fat from specific body areas, such as the abdomen, thighs, and arms. The procedure involves making small incisions in the skin and then suctioning out the fat cells. 
While liposuction can be an effective way to reduce the size of certain areas of the body, it is not considered weight-loss surgery. In fact, most people who undergo liposuction are already at or near their ideal weight. Instead, liposuction is often used to improve the body's contours by removing stubborn pockets of fat resistant to diet and exercise. For this reason, liposuction can often give patients a slimmer waistline. 
However, it is important to note that liposuction is not a substitute for healthy lifestyle choices. To maintain their results, patients need to eat a healthy diet and exercise regularly after surgery.
Waist trainers are compression garments worn around the waist to help slim the abdomen's appearance. Many people wear waist trainers after liposuction to help minimise swelling and speed up healing. However, it is important to note that wearing a waist trainer does not guarantee achieving your desired results. 
Additionally, you must follow your doctor's post-operative instructions, including wearing a compression garment as directed. If you have questions or concerns about wearing a waist trainer after liposuction, discuss them with our team before surgery.
One of the key differences between the two is that liposuction is a minimally invasive procedure, while surgery is a more invasive option. This means that body liposuction involves smaller incisions, less recovery time, and less risk of complications. In addition, liposuction can be performed under local anesthesia, while surgery generally requires general anesthesia. As a result, patients typically report less pain and discomfort after liposuction than surgery. Surgery often involves scarring and longer downtime. 
However, surgery may be the better option for significantly overweight patients or who have excess skin in addition to excess fat. Plastic surgery may be a better option for you if you require skin tightening. 
It's important to note that every surgical or invasive procedure carries risks that must be assessed before undergoing any procedure. Speak with our team today about what you can expect from liposuction and if it is right for you.
Our experienced team is there for you every step of the way.
During your in depth and personalised consultation, we will discuss all aspects of the treatment and aftercare to allow you to make the best and most informed decision for your body. Our team will communicate honestly about the results that can be achieved, based on your body, without giving any unrealistic expectations.
Our team is dedicated to the health and safety of our patients, working diligently through the entire process to ensure you are well looked after and comfortable. Procedures range between 1 – 5 hours and are performed in our accredited day surgery.
Your post-treatment recovery will be guided by our caring team, aiding your comfort with medication during the initial stages. You will be supplied with compression wear to be worn for 4-6 weeks to help with any swelling or bruising post-treatment. Your surgeon will also be directly contactable after hours, should you have any questions or concerns.
Your review appointments are an integral part of your liposuction procedure. These complimentary reviews allow your surgeon to assist in your healing process and ensure you get the best results possible.
Now it's time to get back into your normal routine while feeling amazing and confident with your new results.